S1E37 - Season 1 Recap - Guitar talk - New build - praciting - What's coming...
New Archtop Build forthcoming
2 years ago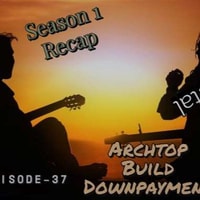 Episode Notes
Oh my oh my oh my.
With the end of the year upon us and the end of a year of Wood Air Metal guitar podcast, we just wanted to take the time to sum up some things and ultimately just get off on tangents like always.
Friends of our show have released their latest record now Spherical Agenda and Brandon Scott Coleman. You know Matt Hollenberg is releasing stuff, Jim Marron is gigging, Mark Worrell is talking about Spectacles and Petrucci guitars, and Heath Malyuk is saving ears one ear at a time...Zaza is just killing obviously
We feel very fortunate for the time and attention and can't wait for you to see some of the awesome guests we have coming up for next season. Cheers and thanks for all the fish ;-)
and mind us during the holiday season, we'll try to sneak an episode in or 2, otherwise. Happy holidays!
Find out more at https://woodairmetal.pinecast.co
This podcast is powered by Pinecast.