S2E1 - Interview with Classical guitar Maestro Stephen Aron
We're back for season 2!! Can you believe it? So many great new episodes coming up!!
1 year ago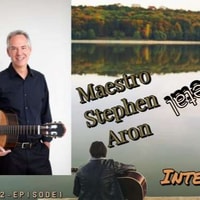 Episode Notes
Adam and Tim bring classical guitar performer, teacher, composer, arranger, hustler....Stephen Aron to the show.
We have learned so much from Steve, and continue to.
Steve's Bio:
Described by the New York Times as "cultivated and musical," Stephen Aron performs regularly throughout the US, Canada and Europe. An active composer and arranger, his work is published by Tuscany Editions ("wonderful guitaristic arrangement," American Music Teacher), Mel Bay Publications ("historic," Guitart) and Clear Note Publications ("a book to be ignored at your peril," Classical Guitar). Clear Note also recently published several of Mr. Aron's original compositions ("imaginative, adventurous, effortlessly entertaining," Classical Guitar). He has released thirteen publications, totaling nearly 600 pages of music.
Aron's recordings have been described as "stunning" (Guitar Review), "superbly produced" (Soundboard), "warmly recommended" (Fanfare) and "inspired" (Classical Guitar). Notably, most of the works on his nine CD's are either original arrangements, original compositions, or premiere recordings of the works of others. His recordings and publications of thirty Lieder ohne Worte by Felix Mendelssohn and the complete Chopin Mazurkas, both for solo guitar, were industry firsts. Aron's most recent releases, One Fell Swoop and A Musical Congeries are collections of new original works for solo guitar. He is a dedicated chamber music advocate, and maintains a regular duo with his wife, soprano JoNell Aron, and another with flutist Jane Berkner. He plays frequently with mixed chamber ensembles both traditional and new music.
Aron has adjudicated numerous national and international competitions and has been a repeat guest, giving performances, lectures and master classes at Guitar Foundation of America Conventions, Stetson Guitar Workshops, Portland Guitar Festivals, Eastman Guitar Festivals, Rantucci Guitar Festivals, Alexandria Guitar Festivals, the National Summer Guitar Workshops, the Eastern Carolina University Guitar Festivals, the Sauble Beach Guitar Festivals and the Appalachian Guitar Festivals as well as at the Yale Guitar Extravaganza, the Ithaca College Winter Guitar Festival, the Eastern Tennessee Guitar Festival, the Montreal Guitar Festival, the New York Guitar Seminar, the Miami International Guitar Festival, the Mediterranean Guitar Festival, the Scotland Classical Guitar Retreat, the TAMU Guitar Symposium and others.
Recently, Aron has been a guest at guitar festivals in Iserlohn, Germany and Sorrento, Italy, and has appeared on recital series across Italy as well as in France and Denmark. Aron was Professor of Music at the University of Akron from 1981 until his retirement in 2015; he continues as Teacher of Classical Guitar and founder of the classical guitar studies program at Oberlin, where he joined the faculty in 1992. His blog, located here, is one of the most-read classical guitar resources on the web.
---
Please check his website out for more information and access to blogs, recordings, books, lessons etc... at http://www.stephenaron.net
Please Like, Subscribe, and Bell and all that to gt more of this kind of thing. So many great episodes to come. If you prefer audio only versions, you can find us on your favorite Podcast apps. https://pinecast.com/feed/woodairmetal https://pnc.st/s/woodairmetal
Find out more at https://woodairmetal.pinecast.co