S2E2 - Copy the way the best practice - Interview John Marcel Williams -
Classical Guitarist Interview
1 year ago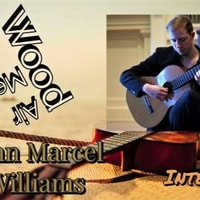 Episode Notes
Season 2 Episode 2 interview with master classical guitarist John Marcel Williams. https://www.johnmarcelwilliams.com
A lot of insight in this episode as we talk to one of the rising stars of the classical guitar world, and child prodigy. John talks about studying with some of the best in the business, as well as tips from the greatest players in the world and life as a classical guitarist. Plus we get into competitions and more.
Opening piece performed by John Marcel Williams - Regondi Etude #4
John's Bio: Award winning artist, John Marcel Williams, is establishing a reputation as both a virtuoso concert artist, and devoted teacher. By age 16 he had garnered over 20 prizes at competitions, including the first prize at the Boston Guitar Festival youth competition, Rosario Guitar Festival, Classical Minds Guitar Festival, and the second prize at the international Guitar Foundation of America young artist competition. In addition he was awarded first prize at the James Stroud competition and won the Pittsburgh Concert Society Audition.
John's unique musicality and refined technique can be seen in his performances. He is frequently invited to play and teach at venues across the United States as well as internationally. In 2018, John toured Panama as a guest artist for the Panama Guitar Festival where he not only performed but gave masterclasses and adjudicated for the Panama Guitar Competition. Other engagements include solo recitals at Oberlin College and Moravian College and he was a guest artist for the 2019/20 season of the Philadelphia Classical Guitar Society. John Marcel has made numerous media appearances on various radio and TV programs, most notably performing on NPR's program, "From the Top," where he was also awarded the Jack Kent Cooke Young Artist Award.
Most recently, in 2019 John debuted with the Wheeling Symphony Orchestra led by Maestro John Devlin, performing Elmer Bernstein's Guitar Concerto. John began to study the guitar at age 10 and his talents were quickly noticed by the late Aron Shearer, who encouraged him to continue his pursuit as a classical guitarist.
John went on to study with Stephen Aron at the Oberlin Conservatory at age 13, under whose guidance he began to gain attention winning competitions across the United States. He also spent a summer studying at the Aspen Music Festival after an invitation from Sharon Isbin, professor of guitar at the Julliard School. Williams started his collegiate studies with Manuel Barrueco at the Peabody Conservatory of Music in 2011, and received both his undergraduate and masters degree in guitar performance. Since the fall of 2018, John has continued his studies at the prestigious Curtis Institute of Music in Philadelphia under the tutelage of Grammy award winning artist Jason Vieaux and David Starobin.
---
Please Like, Subscribe, and Bell and all that to gt more of this kind of thing. So many great episodes to come. If you prefer audio only versions, you can find us on your favorite Podcast apps. https://pinecast.com/feed/woodairmetal https://pnc.st/s/woodairmetal
Find out more at https://woodairmetal.pinecast.co